Journal Entry:
Wed Nov 14, 2012, 11:57 AM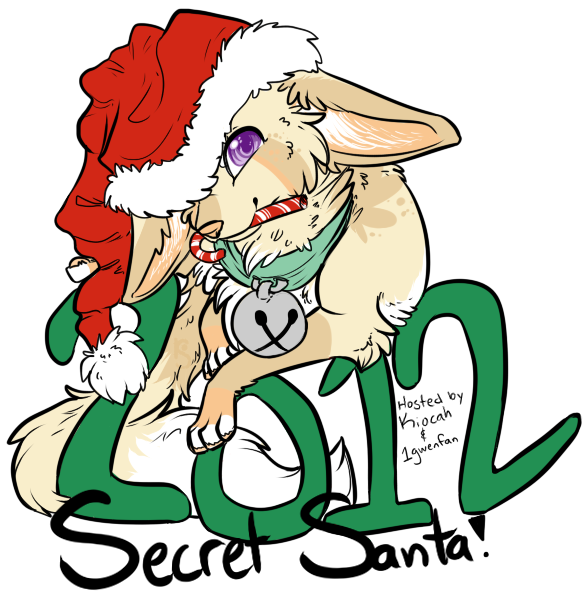 Welcome to: Secret Santa // 2012!
Hosted by Kiocah/

YouMeForTomorrow

(and sort of 5tars)
(5tars is my old account, it will handle sending and receiving notes.)
BE SURE TO EXPECT notes from 5tars and

YouMeForTomorrow

if you join!
Please do NOT note my main account (Kiocah)!
Important dates:
Entry period: Nov 14th - Dec 4th.
Name period (you are told who you are drawing for): Dec 5th.
Drawing period: Dec 5th - Jan 5th.
Posting period: Dec 5th - Jan 5th.

You can drop without consequences before December 4th.What is Secret Santa?:
A fun, ANONYMOUS art-exchange between a number of users here on devART.
You will draw for the person whose name will be noted to you,
WITHOUT INFORMING THAT PERSON IN ANY WAY.
In return, someone will also be drawing you a picture. Nifty, huh?
These rules will be repeated when you each get sent a note with who you are drawing for.
THE BASIC RULES:// Please read! Important!:
- Please, PLEASE only do this if you know you can finish your piece.
- You may NOT simply color a base. It has to be your own work.
- NOTE THAT we have ALL sorts of artists, so the more types/races/so on of character you have, the better.
- Once names are passed out, that is that. You will NOT get someone else. Complaining about who you got will give you only a ban. Names are pulled from a hat, by section.
- If for some reason you cannot finish, PLEASE tell either myself or

YouMeForTomorrow

IN ADVANCE (before the 4th of December). That way I can find another artist to draw a picture.
- Dropping after Dec. 4th or not finishing your image/responding to warning notes will result in a ban from future events.
How you enter the Secret Santa: Follow the four steps below.
ONE
// I would like you to make a journal, titled "Secret Santa Wishlist" or something similar.
In it, I'd like you to list which characters of yours you would like to see drawn. PLEASE INCLUDE LINKS TO REFERENCES. That's the POINT of this. To make it easier.
Be as specific as you would like to be, make fancy lists if you want. It's just easier than browsing galleries.
TWO
// Tell us which YOU would prefer to draw: Feral, Anthro/Halflings, or Humans. These are being sorted based on those three categories.
THREE
// Then, if you are willing to draw an additional picture in case people drop out, add that to the bottom of said journal.
My journal example:
Click the link. c:
FOUR
// When you have done that, link said journal to one of us, and we will put you on our list of people who have been "okay'd".
The other list means that you've told us you want to enter, but we haven't seen a list yet.
Yes, you HAVE to make a list. It's not difficult.

Joined:




























































































Don't hesitate to tell me if I've forgotten you. Just give me a link to your list again and I'll toss you up.
If you want to advertise!
Please do! More people = more excitement.
If anyone likes making stamps, or little advertisement pictures, do it and post them all over your page.
Make journals and polls, just get a bunch of people to join. It'll be fun, I promise.
F.A.Q.//Questions you may ask at some point:
Q: I'm [insert reason for being hesitant about joining], can I still join?
A: Anyone and everyone who can draw can join this.
Q: Who is this 5tars person? What is their role?
A:
5tars
is my old account that I never deactivated. I will be using this account to send and recieve notes. My main account has notes from commissioners.
Q: If we want, can we draw more than one picture for someone?
A: Feel free! I'm sure they would love that. Just know only one picture is required.
Q: I've already joined another Secret Santa, can I join this one too?
A: Of course! As long as you get your picture done, that's the point.
Any questions? Ask away.